Nozstock has evolved from a gathering of 50 friends into an intimate musical odyssey joining the dots between pop, ska, folk, funk, soul, indie, drum'n'bass, psytrance, house and a whole lot more.
We caught up with Rob, one of the Directors to find out a little more about the event.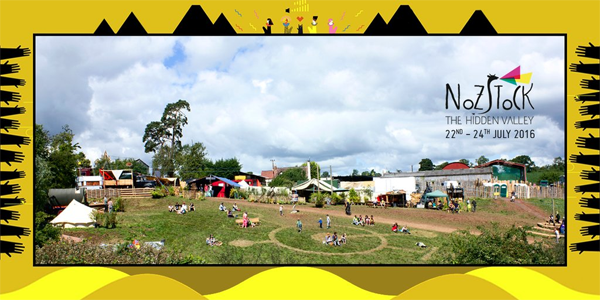 When did Nozstock start and how has it grown/changed?
Nozstock started in 1998 on the family farm. It was a BBQ for around 25 of the families friends with a folk musician called Will Kileen playing on the lawn up a sheet of tarpaulin! After that initial party we decided to do it again and the following year used a bale trailer as a stage and had 3 local bands on. To our surprise over 100 people came along and it that was the real beginning of the family garden party that it has grown steadily and organically into over the last 18 years. It now has 10 stage multi genre stages and a plethora of crafts, workshops and other distractions. We really feel that because of our controlled growth we have managed to retain that original family garden party vibe.
When did you start putting on events?
I guess putting on events found us rather than us trying to find It. Over the years we've put on other events in pubs and clubs but they are always under the umbrella of Nozstock.
What made you decide to be a Festival organiser?
My Dad made me!
How did you come up with your event name?
The Nozstock part of it came from its early beginnings of a party. It was a way of showing people it a little more than a normal party with the "stock" on the end. We added the Hidden Valley after as we felt it help give people an understanding of what to expect. We are tucked away in a lovely little valley that you don't see until you enter the festival site.
What's your favorite event (not your own)?
I think the best festival I've been to in the last few years must be Shambala but my all time favorite must be Glastonbury. We used to go as a family when ours was first starting up and would go our separate ways in the morning to see completely different things then report back around the campfire the next morning. Its where the heart of our own festival lies really. We can all find something we love here even though our tastes are so different.
What was the first festival you ever attended?
Glastonbury, before the fence went up! Crazy and dangerous, but eye opening and beautiful.
If you could have anyone headline your event who would you choose (past or present)?
Radiohead. 100%. Or maybe Hendrix.
What is the craziest request you have had from an artist?
A top DJ/Producer once asked for 3 fridge magnets of the local area and a framed picture of the word c**t in any font except Times New Roman. I think he wanted to make sure we had read his rider properly as there was some important technical specifications and I guess if you have queried these items there's a good chance you've read it all.
If you weren't putting on festivals, what would you be doing?
I guess a mix of working on the family farm and doing green wood carpentry as these are the things I do in the quiet parts of the winter.
What's your number 1 tip for surviving your festival?
Bring wellies and suncream.
What are your 3 must have festival promoter essentials?
Knowledgeable friends. A willingness to risk. The Internet.
What makes your event stand out from all the rest?
The way we've retained the family garden party vibe. We try very hard to build as much as we can ourselves so you don't see it at other festivals. Our bars are in old crook frame barns or old lambing shelters. Some of our more dance genre venues are old cattle sheds. I'm pretty certain there's not another festival like us in the country.
Where would we find you on the last night of your festival?
With my family and friends just in front of the viewing platform of our Orchard Stage. We all work so hard over the weekend and it has become a tradition to all get together for a few songs of the Sunday headliner.
Finally - Do you ever get used to portable loos?
I prefer to use the compost toilets if I'm out on the site but if i can I'll still nip home to the farm house. I can watch one of the stages from the bathroom window year, so it's not too bad!
Keep up-to-date with Nozstock and the build up to the event on Facebook and Twitter.
Stay tuned for the next edition of Backstage!