Not a partridge nor a pear tree in sight, but we thought we could still do what we can to bring you a sprinkling of (sort of) festive joy this season.
2020 has certainly been a year of ups and downs, but we at the TicketSellers like to stay optimistic. So, to top off the year and gleefully wave goodbye to 2020, here are 12 reasons why you should be thrilled to be working with us in 2021 - particularly as a festival organiser!
1.The Team
I know, I know; it's cheesy but it's true!
Whether it's your friendly account manager, the customer care team, or our staff on-site: we know tickets, and we live festivals! We totted it up and we have over 100 years of combined experience. Yikes.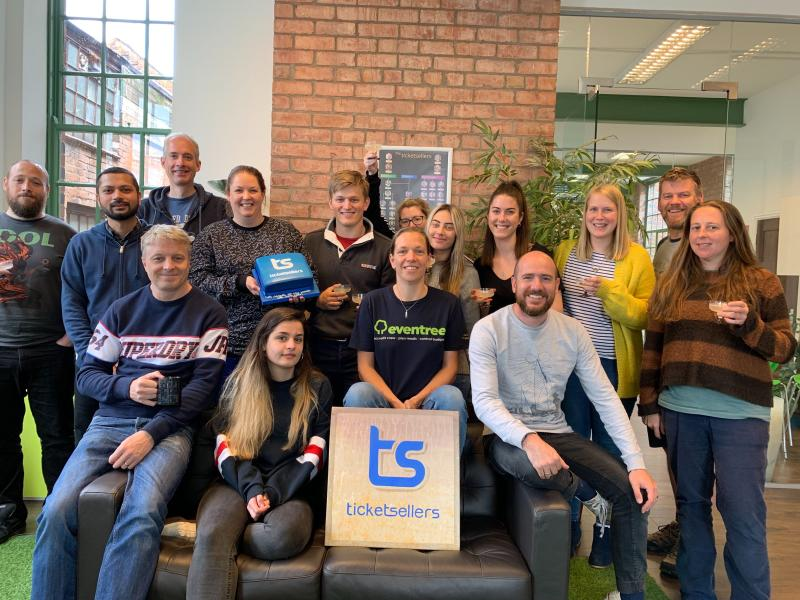 The TicketSellers are in a pretty special position, where we work with a range of festivals and events of different scales and styles, giving us a unique insight into how to approach the array of challenges that are present in the events industry!
Whether that's how to offer a specific group of customers a discount, or how to run a gate entrance with no WiFi, in the rain. You can pretty much guarantee that we have had to solve that problem already.
So, got a challenge you need help resolving? Get in touch!
Either with your account manager, or info@theticketsellers.co.uk if you are new here.
2. Part payment ticket options
It's becoming more and more commonplace to offer customers the option to pay for their tickets in bite-sized chunks. If festival organisers want to make this available for attendees, they need a ticketing provider who offers a number of customisable options.
Luckily for you, we spoil you for choice!
We have numerous variations available, whether it's instalment plans of 12 months, or 3. Splitting payments evenly, or only taking a modest deposit, it's up to you what you want to offer customers.
Plus - it's not only entry tickets! You can also offer payment plans on other higher priced tickets such as glamping options.
For more information on the nitty gritty of payment plans see this article.
3. Refund functionality
We have an optional self-service customer refund function, meaning that customers can login to their customer account and select from a variety of options for each of their tickets, including (but not limited to) requesting a refund. These options are completely down to your discretion as an organiser.
The available options are:
-Refund
-Keep ticket for future event
-Donate ticket
-Partial donation
For each option, you can write bespoke text giving extra information, as well as the choice to add some 'thank you' text, once a customer has selected their option.
Although initially designed to handle the high volume of refund requests received throughout Summer 2020, this feature is here to stay and remains available for all of our organisers. Whatever reason you may need to present these options to your customers, our automated refund tool ensures a timely and simple issuing process.
4. Easily add multiple tickets: Ticket Import
As experts in festival ticketing, we understand that often the nature of this means that there are lots of different ticket types. Whether this be different tiers, age groups, weekend, day tickets, or add-ons, we've got you covered.
You may already be familiar with the ticket import sheet, but behold! You can now access it yourselves. And don't forget, you can use the import tool at any point, not just when setting up an event initially. So if you want to add a series of glamping options for example, these can all be uploaded at once, weeks after the original on-sale.
To see full instructions on the ticket import tool see this article.
5. Easily amend multiple tickets - bulk edit tool!
Once you have imported all your tickets, if you wish to make any tweaks further down the line, and you have all sorts of tickets you wish to make amends to, you can use the bulk edit tool.
Not only can you edit lots of tickets at once and make different changes to each one, BUT you can also make an amendment across all tickets. For example, if you wanted to set all tickets as unavailable, you can do that with a couple of clicks!
For more information on this feature see this article.
6. Quick Reporting
This year we introduced a new and improved way of tracking ticket sales: ticket tags.
These tags act as markers on tickets in whatever way you like, with the option to apply multiple tags per ticket. Once you have applied all your tags to your individual tickets, you can then generate reports to monitor your sales. For instance, an 'Adult Weekend Ticket' could have the tags 'adult' and 'weekend', with the ticket appearing on each of these reports respectively.
In 2020 we introduced several ready made reports such as:
Detailed Ticket sale analysis
Year on Year sales comparison
In these reports you can select whether you can report on value, or number of tickets sold. You can select date ranges and report on ticket types, or ticket tags.
Click here for more detail about reporting
7. Analytics & Tracking Sales
Our ticket listing pages support several different analytics such as Google Analytics and Facebook Pixel.
We also support referral sales, an easy way of tracking tickets sold via uniquely coded URLs. This can be used as a light-touch ambassador scheme, or even to track specific campaigns.
For more information on various ways of analysing and tracking sales see here.
8. Sales highlights using tags (aka how many adult tickets have I sold?!)
As festival organisers, you may end up wrangling with lots of different ticket types and sometimes it may be difficult to see how many actual adult tickets you have sold, or even how many 'people' tickets you have sold. Amongst the various tiers, payment plans, concessionary tickets, vehicles, camping, eco bonds, carbon balancing - the list goes on and it can be hard to get a clear picture of who is coming to your event.
That's why we have a Sales Highlights tool which uses tags to report on groups of tickets. You can also easily switch between which tags you'd like an overview of.
9. Pay What You Feel tickets
Do you want to have an optional donation on your ticket page, where customers can choose how much to donate? Or do you want to offer a ticket where customers can choose to pay what they feel, within a range? Now you can!
Set parameters for minimum and maximum amounts, and even set a suggested amount, but let customers decide the rest.
10. One click carbon balancing
Does your festival have green initiatives and targets? TicketSellers have an ongoing partnership with Ecolibrium, who among other projects, lead Energy Revolution.
Collect carbon balancing donations at checkout from customers travelling to the festival!
For more information see here.
11. Flexibility
There are a multitude of features available on the TicketSellers control panel, and the vast majority of these are accessible by organisers themselves.

As organisers, you have the flexibility of having control over your ticket page, from customising order confirmation emails, changing allocations, and importing tickets, you can do it all (almost).

However, the team is also on hand to help you out whenever you need it. If you're having a hectic week and need some support, or you aren't sure of the best way to go about something, we've got your back.

Quite a bit has changed recently, so log in to your organiser control panel and take a look around. You can also check out the Help Centre for articles on how to access features.

12. We listen and adapt

As a small business we have the benefit of being agile.

We listen, and take your ideas on board and are always looking for ways to improve the service we provide. From the day-to-day to a flippin' pandemic, we are here for you!
13. Bonus round
If you got this far, congratulations.
Email jenny@ticketsellers.co.uk for a prize.
*NB tangible prizes cannot be guaranteed, the reward may be a cute photo of a puppy. Though she may post you a slice of banana bread.