Nadine Shah, John Grant, Django Django, Dry Cleaning, Billy Nomates, Alfa Mist, Snapped Ankles, Yard Act, Pip Blom, Sinkane, Denise Chaila, The Lovely Eggs, Du Blonde, Katy J Pearson & more
North Yorkshire's Deer Shed Festival has announced the first headliners and line-up additions for Deer Shed 12, their first full capacity event since 2019. As the festival prepares to make it's full return to Baldersby Park, they have announced the first acts scheduled to appear including headliners Nadine Shah, John Grant and Django Django.
Following her mesmerising performance at the festival in 2018, Mercury nominated Southshields singer-songwriter Nadine Shah will headline Deer Shed's mainstage on the Friday night. Her tour-de-force fourth album 'Kitchen Sink' is a favourite of the Deer Shed team who are incredibly excited for Nadine to return and take her rightful place at the top of the bill.
Joining Nadine Shah is American singer-songwriter and Deer Shed favourite John Grant who brings his untouchable back catalogue, cinematic compositions and inimitable voice to Baldersby Park alongside art-rock innovators Django Django. The Mercury nominated indie innovators will appear at Deer Shed hot on the heels of the release of their acclaimed 2021 album 'Glowing In The Dark'. Heralded by NME as "a propulsive thrash towards the dancefloor", the London based quartet are perfectly placed to close out the 12th edition of Deer Shed.
Following the release of their spectacular debut album 'New Long Leg' on 4AD, London post-punks Dry Cleaning will be making their debut Deer Shed appearance alongside the biting and brilliant Billy Nomates, critically acclaimed trio Snapped Ankles, innovative jazz / hip-hop songwriter, producer and MC Alfa Mist and much-hyped Leeds quartet Yard Act.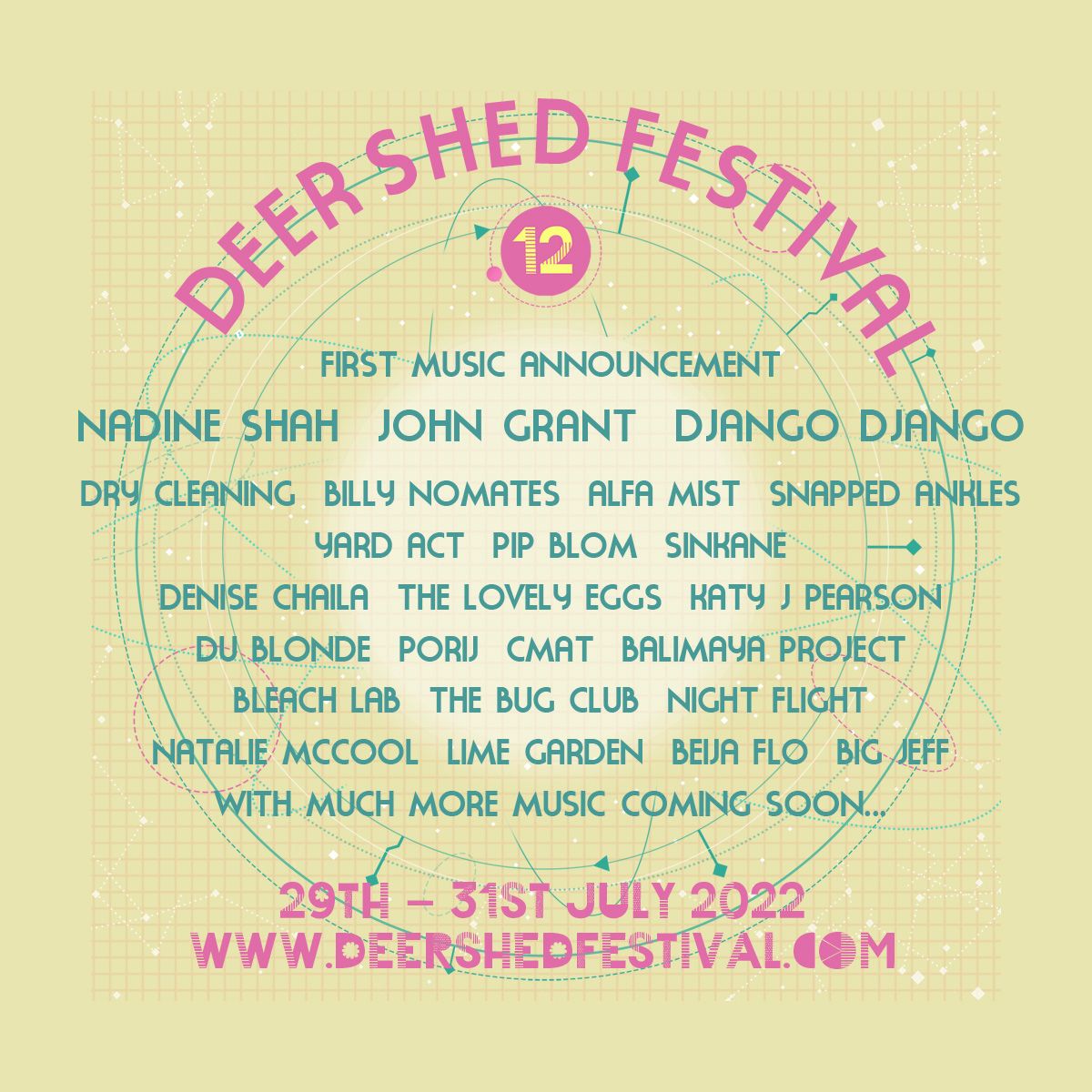 Also announced today are Heavenly Recordings signings Pip Blom and Katy J Pearson, the brilliant genre-hopping Sudanese-American visionary Sinkane, beloved Lancaster DIY veterans The Lovely Eggs, songwriter and self-proclaimed 'Global Pop Star' CMAT, fast-rising Irish rapper-singer-poet Denise Chaila and many more.
Deer Shed are also pleased to announce Bristol's 'Big Jeff' Johns will be attending the festival as official artist in residence, creating brand new works across the weekend in front of the festival's main stage - combining his two great passions of art and music. One of the UK's greatest champions of live music, Jeff will soon host his first exhibition as an artist - sharing his vivid, psychedelic work with the world.
Following two years of hosting their successful 'Base Camp' events in place of a full-capacity festival, Deer Shed have also announced the return of their annual theme. Deer Shed 12's theme will be Pocket Planet - a celebration of different things from different places with programming and activities to come from all across the globe as part of the festival.
An innovator of a family-friendly format that doesn't forgo exciting and contemporary musical and cultural curation, Deer Shed Festival is an event carefully designed to be a brilliant experience for all ages. A festival for all - families, friends and fans.
Deer Shed 12 will take place on 29-31 July 2022 - tickets are on sale now
Announced today:
Nadine Shah, John Grant, Django Django, Dry Cleaning, Billy Nomates, Alfa Mist, Snapped Ankles, Yard Act, Pip Blom, Sinkane, Denise Chaila, The Lovely Eggs, Du Blonde, Katy J Pearson, Porij, CMAT, Bleach Lab, The Bug Club, Balimaya Project, Night Flight, Natalie McCool, Lime Garden, Beija Flo
Kate Webster, Co-founder Deer Shed Festival: "While our two Base Camp events were both wonderful, there really is nothing like what we've come to know as 'full-fat Deer Shed'. We're so excited to be announcing the first of our artists for Deer Shed 12 and everyone feels so ready to get back to Baldersby Park in 2022! We've been around a while now and one of my favourite things is seeing artists come back, working their way up the bill as they go - Nadine Shah first joined us in 2018 and has gone from strength to strength since, so it's a real honour she has decided to come back to Deer Shed as a headliner!"
For more information  please visit:  https://deershedfestival.com
**** -  The Guardian
"A  sprawling playground of stages, tents, workshops, sports activities and outdoor fun, which children and families can enjoy together." - Manchester Evening News
"There is always so much more to the increasingly brilliant Deer Shed Festival." - The Yorkshire Post