As a photographer, you want to get the good gigs, the ones that stick with you and make you strive to keep pushing the envelope of creativity. Shooting Boomtown in 2018 was definitely up there as one of those shoots, and a festival I would 1000% recommend experiencing if you get the chance.

So last summer, a good friend of mine (also a photographer) asked if I'd be busy on the Sunday of the festival, I wasn't and he just kind of dropped in that he was doing some videography at a festival (at the time of asking, there was no mention of which festival). He said he needed someone to shoot some stills and asked if I would be interested. It was a little outside my wheelhouse, as my usual style of photography is Fashion, Portraits and Lifestyle work, but I'm always up for a challenge and a new experience so I happily said "yeah I'd love to".

The brief was pretty straight forward, we were to shoot two DJ sets on two different stages, both DJs were managed by Triple Threat Management so we just needed to be there, setup and shoot. When I asked which festival, he just mumbled where it was and said it was quite big… (eventually got its name from him the day before). We road tripped from Birmingham to the festival site, we went from ticket office, to guest office, got our official wristbands for each stage and were then told to await pickup by minibus.

Festivals aren't a new experience to me. I've been to Download and a few other smaller festivals, and I thought this would be a similar setup, you know, big main stage, few smaller stages blah blah, well I couldn't have been more wrong. Boomtown is so big that it has a bus timetable, bus routes and bus stops.... there was a huge mansion purpose built for Boomtown Springs ticket holders with a pool. It took us nearly 20 minutes to get to our first stage (The Pagoda) where we met the first act, DJ Jesse Perez. As far as chilled out people go, Jesse was right up there. He welcomed us, offered us drinks from his rider (beers, rum, soft drinks) and we chilled in his yurt until he was ready for his set. We chatted about gigs, briefed him on where we would be in terms of shooting etc. and generally just bantered away until his sound check.

Once he was up on stage and set up, we waited out back for him to start. The crowd before his set had kind of disappeared as it had started raining, but as soon as the beat dropped, the crowds were back.

I had my camera (Canon 5Dmkii and a 24-70 f/2.8) and off I went. Taking shots of the decks, Jesse in his element throwing down beats and mixes and general shots of the crowd, who by this time were hyped! Halfway through the set, me and my buddy Tom got out to the front of the stage to shoot the crowd, getting them more hyped, and then we just dove in. We got into the crowd (which was insane) and started firing off shots of people completely in the moment. The atmosphere was incredible, people throwing shapes and generally just living their best lives. It's a huge rush as a photographer to be able to be in that moment and capture those shots. We got back on stage and carried on shooting for the rest of Jesse's set, and when he was done, made our way to the second stage...

Stage 2 was a behemoth. I'm talking 5 floors high over a crowd, pyrotechnics, lights, lasers, smoke machines, the works! The Bang-Hai towers stage was insane, and being able to see it up close just made the hype for this gig even bigger. We chilled backstage for a while waiting for the last act to clear before Adam Gorsky Aka: GotSome goes up to start his set. We chat over a beer, again brief him on where we are going to be and shots we want to get etc., and then we climb up to his arena.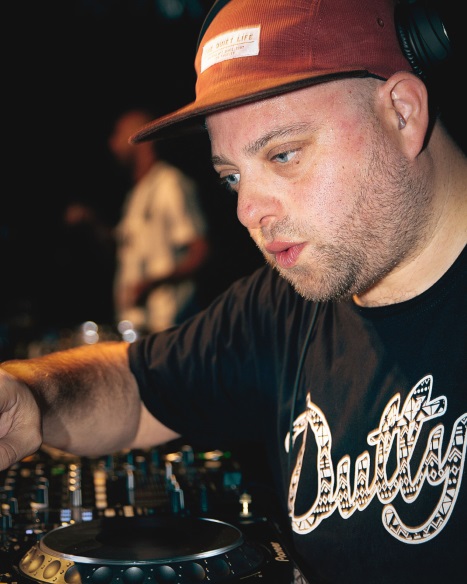 Backstage was a scaffolding staircase all the way to the top, with the stage overlooking onto the crowd - breathtaking. Taking in all of the faces, the other stages in the distance and how big this festival really is, it was a sight to behold and one hell of a rush to be a part of. Gotsome had an MC at one end of the stage also acting as a hype man and he really got the crowd going before the lights dropped and bass hit. Then chaos… in the best possible way. The beat kicks in and the crowd goes insane. We got the shots onstage, so we went down into the crowd to shoot upwards and get the DJ booth from their perspective.

They saw us coming and immediately everyone was a model - in onesies, pyjamas and fancy dress outfits. Beach balls and inflatable toys were everywhere and the crowds were loving life. GotSome played his set for about half an hour and in that time, we had all the shots we needed and more. We had been onstage, offstage and part of the crowd and it was a massive honour to have been a part of something so big. It's an experience I'd never have expected, and one I am so very grateful for having had.

Boomtown is a world of its own with shops, bars, villages, communities and everything you'd go to a festival for and more. It's an incredible experience and one I'd highly recommend going to at least once. I had the absolute pleasure of being able to enjoy it as a professional and also as a guest, and given the opportunity would do it over and over again.
Written by Ryan AJ Garratt - aka - Urban Savage Photography.
https://urbansavagephotography.com/
https://twitter.com/UrbanSavageUK
https://www.instagram.com/urban_savage_photography/