So, not to toot our own horn or anything, but you may have heard that we were quoted in a recent Stand Out article (toot-toot!).  Putting our infinite humbleness aside, the article surrounds our new refund process, outlining how this is helping to support event organisers and promoters amidst the impact made on the events industry by the COVID-19 outbreak.
While we understand that events that you had planned to attend will, rightfully, be at the bottom of your list of priorities given the global uncertainty at the moment, we also know that you will want to know what your options are in regard to tickets you may have bought. And so, enter: our online refund process.
Now, when an event is cancelled or postponed, any customers who have bought tickets will be notified via email and instructed to login to their account to select what they would like doing with their order. The possible options are to keep their tickets (for either a 2020 postponed date, or the 2021 event for larger events), to refund their tickets, or to donate the cost of their tickets. The process will look like this, from within the customer account: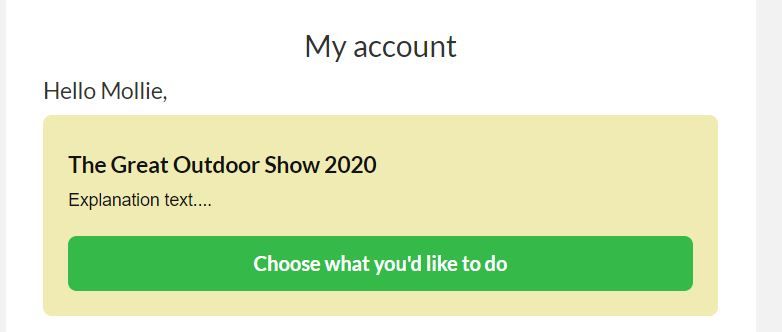 As our new process is entirely automated, refunds will be issued back to the original payment card used as soon as the system registers the request. As we're dealing with an unpredictable increase in refund requests, this automated process means customers can quickly and efficiently choose what they'd like to do with their tickets without waiting for a response or confirmation from a member of our team.
What Does 'Donate My Ticket' Mean?
With event organisers taking a massive financial hit from the restrictions put in place by COVID-19, donating your ticket means offering your support to them and their future events. This is a good option if you're in a place where you don't need the money from a refund on your order, but you're also unable to attend either the postponed or the 2021 event. Instead of receiving a refund and getting your money back, you can choose to donate the cost of your ticket(s) back to the event organisers.
Whilst we understand that we're not all lucky enough to be in a comfortable enough financial position to do this, it's an incentive many customers using the new process have already chosen to opt for. Alternatively, you can donate part of your ticket cost instead of the whole order by contacting us directly. As of today, we've had 1.4% of refund requests choose the donate option, as well as more partial donations. While this figure may seem small, it is providing organisers with vital funds to keep future events afloat.
Lastly, we just want to mention here that we hope all of you are keeping safe and looking after yourselves - and each other (from a sensible sensible distance) - in these confusing and worrisome times. From everyone here at TicketSellers, we wish you all the best and hope to see you thriving ASAP. x